Venturi and Cyclonic Scrubbers
Wet Scrubbers for Particulate Control
Venturi scrubbers use high-energy impaction of liquid droplets to remove particulate from contaminated air streams. Water or other liquors are directed towards a constriction, or "throat," where the atomized liquid scrubs the particulate from the air and transfers it to the scrubber liquid droplets. This type of technology is a part of the group of air pollution controls referred to as wet scrubbers.
The amount of particulate removed from the air stream, or "control efficiency," is based on several design elements, including pressure drop and contact time.
Venturi Scrubbers
Basic: diverse applications
Flooded Wall: high dust loading or hygroscopic nature of the dust
Boiler: double-bladed throat damper for constant efficiency in fluctuating gas flows
Quencher: high-temperature application
Impactor: multiple scrubbing techniques for dissolving tanks
Lime Slaker: mounted on top of lime slakers and uses the green slaker feed for scrubbing
Basic Oxygen Furnace: very high gas volumes (up to 1,000,000 acfm) and dust loadings
Type C-V: combines a venturi with an enhanced cyclonic separator for large particulates and acid gas removal
Combination Particulate – Acid Gas Scrubbers: compact and low cost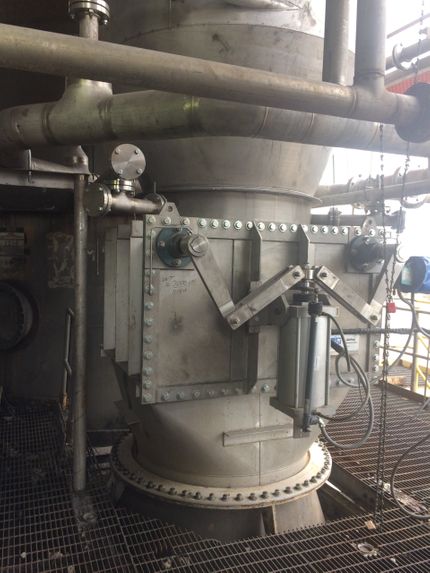 Retro-fit Variable Venturi scrubber throat with dual damper blades, double-acting pneumatic cylinder with positioner, inlet and converging to replace existing equipment on a pulp mill power boiler.
AirPol Advantages
AirPol's extensive history of designing venturi scrubbers to handle even the most difficult challenges equals unparalleled expertise in applications requiring wet scrubbers. The AirPol Venturi Scrubber:
effectively collects sub-micron particles as well as coarser particles at lower pressure drop
designs to meet any desired particulate removal efficiency
works without spray nozzles or jets that can cause clogging
adjustable throat dampers maintain constant removal efficiency at fluctuating gas volumes
resists corrosion or abrasion via alloy materials and linings
operate reliably with a proven record of minimal maintenance year after year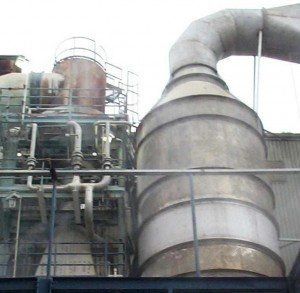 Venturi throat with pneumatic rotary actuator, and flanged diverging and converging sections to fit existing scrubber.